Following on from our popular article on Aga cottages near vineyards in Kent, here we reveal some more idyllic hideaways near to vineyards in Devon and Dorset. Although English wines tend to be a little more pricey than their European counterparts, they are often surprising in their depth of flavours and are always high in quality. Why not try some this season and, if you like what you find, book to visit them in the coming few months, staying nearby in your very own Aga hideaway?
Childhay Manor near Beaminster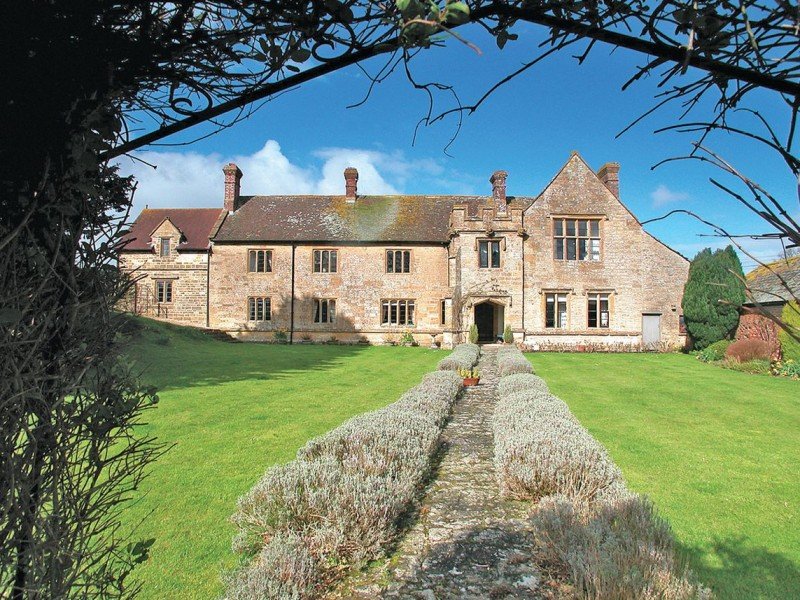 Childhay Manor is a stunning working farmhouse in West Dorset and the cottage, which sleeps six, is part of this little piece of mediaeval history. The owners of this picturesque organic farm breed racehorses and rear dairy cattle and goats and lucky guests can enjoy walks straight from the door, play tennis on the private courts or just enjoy a glass of something chilled on the secluded patio in the summer or snuggle up to the open fire and Aga in the colder months.
The cottage is perfectly situated to visit many of the attractions in West Dorset including Montacute House and Forde Abbey and is also only a short drive from Furleigh Estate, a multi-award winning winery just outside Salway Ash, north of Bridport.
View Furleigh Estate Website
Furleigh wine is fast becoming a household name and as well as being available at some airports in Duty Free, it is stocked by many local vintners and features on the menus of eateries such as Hix Oyster Bar in Lyme Regis and River Cottage in Axminster. Why not book for a tour and see for yourself why English bubbles are winning over judges in international competitions?
The Mill near Bridport

The Mill is a delightful retreat also within easy reach of Furleigh Estate, perfectly situated east of Bridport. This cosy Aga Cottage is a beautiful holiday property on the edge of the village of Askerswell in West Dorset. It is a very unique place to stay having been fully restored with a working water mill. In fact it is the only water mill in Dorset with all of the original machinery which has been conserved to capture this historic importance.
Just across the border to East Devon outside the village of Shute, is another wine producer, Lyme Bay Winery, which is well worth a visit. Lyme Bay produce an impressive array of traditional ciders, fruit wines, meads and fruit liqueurs for those looking for something a little different as well as a selection of fine wines. Their fruit wines are particularly enjoyable and suit both being chilled for summer as well as served at room temperature to warm chillier days. (In my humble opinion…) They also produce a warming mulled wine, a Christmas pudding wine and a delectable Christmas mead.
View Lyme Bay Winery Website
North End Farm House near Bridport

Would you like to take a larger group on a wine tour of the south west? Just north of Chideock Cottage is North End Farm House and Cottages which can easily accommodate up to fourteen. Described as a haven away from it all, being in a delightfully secluded location, the house boasts a huge range of architectural quirks including a Tudor fireplace and a hidden spiral staircase.
Chideock Cottage near Chideock

Adding further to our list of featured cottages, which we really should call 'spoiled for choice' in the West Dorset/East Devon area, is Chideock Cottage. Perfect for couples or small families, the cottage is walking distance to the beach at Seatown and also has three lovely pubs nearby too!
Chideock Cottage is in the perfect location to visit not only the Lyme Bay Winery and Furleigh Estate, but Castleford Wines as well!
View Castlewood Wines Website
Castleford is a relative newcomer to the English wine market. This boutique wine producer is situated just outside Lyme Regis beneath the ancient hill fort of Musbury Castle. Since 2012, Castlewood have hosted a festival every June which has become an extremely popular fixture on the festival calendar. Situated just two miles as the crow flies from River Cottage HQ, Castleford and River Cottage offer a popular wine and dine experience throughout the summer starting with a tour of the vineyards, a tasting and dinner at River Cottage to round off the day before sauntering back to your perfect Aga hideaway – the perfect gift for an Aga loving foodie!
Enjoy!

Article by: Rebecca Russell
Main image: Furleigh Estate, West Dorset

Add to favourites